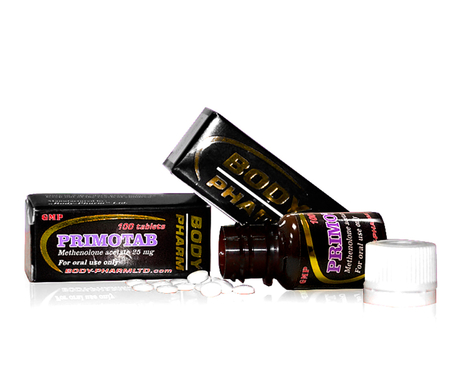 Primotab
description

Each carton contains 100 tablets of 25mg per tablet

active substance

Methenolone acetate 25mg

unit

100 tabs
COMPOSITION
1 tablet contains:
the active substance: metenolone acetate 25 mg;
ancillary substances: magnesium stearate, ludipress (lactose, povidone, crospovidone).
MEDICAMENT DESCRIPTION
White or nearly white, round tablets, top and bottom flat, the side surface with edges rounded.
PHARMACEUTICAL FORM
Tablets
PHARMACOTHERAPEUTIC GROUP AND ATC CODE
Anabolic steroidian, A14A A04
CLINICAL PHARMACOLOGY
Metenolone is a steroid anabolic. By penetrating into the cell nucleus, it stimulates the cell's genetic machinery, which leads to increased synthesis of DNA, RNA and structural proteins, activates tissue-type enzymes and increased tissue respiration, oxidative phosphorylation, ATP synthesis and intracellular macrocellular accumulation . It stimulates the anabolic processes and inhibits the catabolic ones caused by glucocorticoids. Increases muscle mass, reduces fat deposition, improves trophic tissue, favors calcium deposition in bones, retains sodium and water in the body. Hematopoietic action is determined by increased erythropoietin synthesis. Androgenic action (moderate) may contribute to the development of male secondary sexual characteristics type.
THERAPEUTIC INDICATIONS
Disruptions in protein synthesis, cachexia of various genesis; Trauma, burns, after infectious diseases and irradiation; Muscular dystrophy, osteoporosis, negative nitrate balance in corticosteroid therapy, hypo- and aplastic anemia.
DOSAGE AND ADMINISTRATION
Primobol administered to adults at a dose of 2-3 mg / kg. Duration of treatment is 3 months and can be extended based on results.
ADVERSE REACTIONS
In women - symptoms of virilization, menstrual cycle disorders.
In males: in the prepubertal period - symptoms of virilization, retention or cessation of growth (calcification of epiphyseal growth zones of tubular bones); In the post-puberty period - gynecomastia, priapism, inhibition of spermatogenesis.
In men and women - progress of atherosclerosis, peripheral edema, liver dysfunction, changes in leucocyte pattern, pain in long tubular bones.
CONTRAINDICATIONS
Hypersensitivity to the preparation, prostate cancer, breast cancer in men, mammary carcinoma in women with hypercalcemia, severe atherosclerosis, nephrotic syndrome, acute and chronic liver disease including alcohol, nephritis, pregnancy, lactation period.
OVERDOSAGE
Cases of overdose have not been reported.
SPECIAL WARNINGS AND PRECAUTIONS
When the first signs of virilization of the patients (voice thickening, hirsutism, acne, clitoromalgia) occur, administration should be stopped to avoid irreversible changes. Systematically control lipidemia and cholesterol.
INTERACTIONS WITH OTHER MEDICINES
Glucocorticoids, mineralocorticoids, corticotropin, sodium-containing preparations and high-sodium foods potentiate fluid retention in the body, increase the risk of developing edema, and intensify acne eruptions. Increases the action of antiaggregants, anticoagulants, insulin and oral antidiabetics, decreases the action of somatotropin and its derivatives.
STORAGE INSTRUCTIONS
Store in a dry place and away from light at 15-25 ° C.
Keep out of the reach and sight of children.
SHELF LIFE
5 years.
Do not use after the expiry date stated on the package.
LEGAL STATUS
With a medical prescription.
REGISTRATION CERTIFICATE HOLDER AND ADDRESS OF THE MANUFACTURER
BodyPharm Ltd, Japan